• Children • ComfortableSleep • decorative pillow • Durability • GiftIdeas • Gifts for kids • Hand Made Pillow • HandmadeInUSA • long distance relationships • Pillow • Pillow Cover • toddler pillow case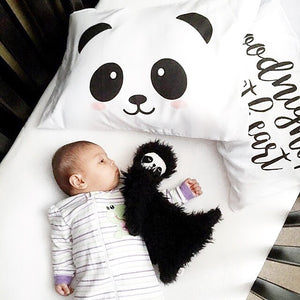 Give your little one the gift of sweet dreams with the Oh Susannah Panda Face Toddler Size Pillowcase! Made with soft and breathable microfiber fabric, this hypoallergenic pillowcase features an adorable panda face design that is sure to delight your child. Discover the importance of a good pillowcase for kids and learn more about the material, construction, and design of this charming pillowcase in our latest blog post
---
• BeddingEssentials • BedroomDecor • ComfortableSleep • decorative pillow • Durability • GiftIdeas • Hand Made Pillow • HandmadeInUSA • Home decor • long distance relationships • Machine washable • MicrofiberMaterial • OhSusannahPillowcases • Pillow • Pillow Cover • Pillow inserts • throw pillows • Woven fabric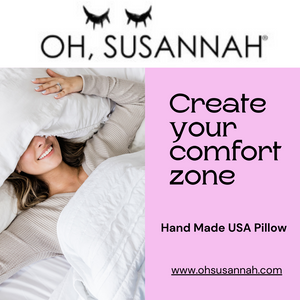 Upgrade your sleeping experience with Oh Susannah Pillowcases - the perfect addition to create a cozy and comfortable sleeping environment. Made from high-quality microfiber material, these pillowcases provide a soft and smooth texture that feels luxurious against your skin. Handmade in the USA, Oh Susannah Pillowcases are not only super soft and durable but also feature beautiful, long-lasting designs that won't fade or bleed after washing. Whether you're looking for a practical gift or a stylish addition to your bedding set-up, Oh Susannah Pillowcases are sure to impress.
---
• anniversary gift • Couples Gifts • decorative pillow • Durability • Hand Made Pillow • Home decor • Machine washable • Pillow • Pillow Cover • Pillow inserts • throw pillows • Woven fabric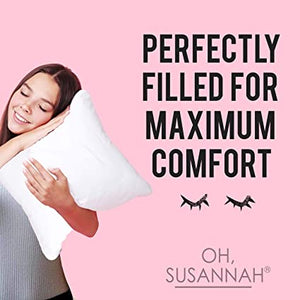 Upgrade your Home Décor with Oh, Susannah's USA Made Premium 18 x 18 Pillow Inserts Woven Fabric. Discover the benefits of using high-quality, durable, and soft pillow inserts for your decorative pillows and sleeping pillows. Learn about the differences between woven and non-woven fabric and how no-show seams can give your pillows a polished finish. Experience ultimate comfort and support with these versatile pillow inserts that are compatible with most pillowcases.